As the 4th of August is Choc Chip Cookie Day I thought I would have a look at the history of Choc Chip Cookies or biscuits as we call them in Australia.
Choc Chip Cookies have been a favourite of mine since I was a child. I can surprisingly still remember the day I tried one. Amongst other things cookies make great gifts, wedding favours, bake sale favourites, and pick me ups with a cuppa.
Image: Photographer unknown
 The chocolate-chip cookie has been extremely popular since it was first baked by Ruth Graves Wakefield. Ruth and her husband were running the Toll House Inn on Route 18 near Whitman, Massachusetts where she baked all the food for their guests.  Apparently there are a number of myths as to how this recipe for the cookies was created. "One story goes that, one night Ruth was whipping up a batch of the colonial Chocolate Butter Drop Do Cookies but realised she was out of baker's chocolate. Instead she chopped up a block of Nestlé semi-sweet chocolate. She had been given this chocolate by Andrew Nestlé from what we know today as the Nestlé Company. Expecting the chocolate to melt and blend through the dough much like the baker's chocolate, she was surprised to find it staying in its original form, all softened and gooey to eat."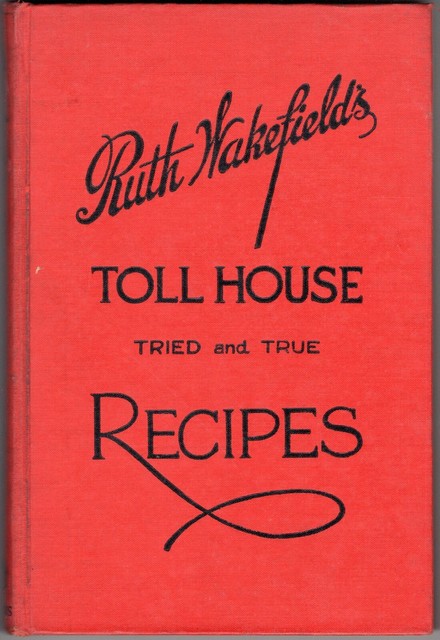 Author: Ruth Graves Wakefield
Ruth was also a dietitian and a food lecturer, it is thought that she may have created the "Toll House Cookie" with planning, skill & knowledge of baking and cooking. I'm sure that she would not have even thought about just how popular the cookies would become and remain a treat decades later. Ruth called her new cookie the "Chocolate Crunch Cookie" and published the recipe in a number of Boston & New England newspapers and The Betty Crocker Cooking School of the Air radio program. The cookie became very popular was renamed the "Toll House Chocolate Crunch Cookie" in 1936. 
Nestle Toll house Cookie Packaging
Assisted by the popularity of the Toll house recipe Nestlé semi-sweet chocolate sales skyrocketed. Andrew Nestlé and Mr & Mrs Wakefields came to an agreement to print Ruth's recipe on the chocolate labels, with a lifetime supply of free chocolate given in exchange for its use. Nestlé created the chocolate buttons or choc bits/chips, as we know today, in 1939 to save cooks time & no longer needing to chop blocks of chocolate to create the chocolate chips. Nestlé still print the original recipe on their bag of chocolate chips. They originally owned the rights and took all profits from the "Toll House Cookie" until 1983 when issues were discovered in the original agreements with the Wakefields and Nestlé lost their exclusive rights to the trademark."Toll House Cookies" were no longer able to be only used by Nestlé. The name "Toll House", however continues to be a subsidiary brand of the Nestlé Company and is still used on Chocolate Morsels, chocolate chip cookie dough, and cocoa powder.
The Original Toll House Cookie Recipe:
2 1/4 cups all-purpose flour

1 teaspoon baking soda

1 teaspoon salt

1 cup (2 sticks) butter or margarine, softened

3/4 cup granulated sugar

3/4 cup packed brown sugar

1 teaspoon vanilla extract

2 large eggs

1 2/3 cups (11-oz. pkg.) semi-sweet chocolate morsels

1 cup chopped nuts
Set oven to 375° F. In a small bowl, mix flour, salt and baking soda and set aside. In a larger bowl, cream butter and sugars and add vanilla extract. Blend until smooth and creamy. Add one egg and beat well. Add the second egg and beat well. Gradually fold in flour mixture and stir in chocolate pieces. Drop a tablespoon size dollop onto baking sheets and bake cookies until golden brown or for around 10 minutes. Remove from oven and allow to cool on trays for 2 minutes before transferring to a wire rack to cool completely.
Nestle Toll House Cookie Tin
The Choc Chip Cookie has seen many historical events during its lifetime and has given great joy with the consumption of cookies during the Great Depression and Second World War. Much like the ANZAC biscuit did for our Australian & New Zealand soldiers, wives, mothers and lovers would have sent care packages to their loved ones involved in the war effort.
Ruth Wakefield passed away in 1977 after writing & publishing the "Tried & True" cookbook which is still available for purchase today. It even includes a "Primer for Brides" chapter that is indicative of the year the book was written in. Many biscuit companies have released their versions of the "Toll House Cookie" over the years, with home bakers creating delectable recipes with a variety of ingredients.
I have included a Triple Choc Chip Cookie recipe that I love using. I'm not sure who the original author was and I could have used one in a hundred other recipes, but this one is delicious.
If you're looking for a great cookie to use a gift or wedding favour, then this one is a good pick. Easy to make and so moorish, you'll need to hide them so you don't eat them all before your need them. The dough freezes well so you can make them in advance and bake them closer to when you need them.
Triple Choc Chip Cookies
Awesome large cookie for favours & can be easily doubled.
Equipment
Hand or stand mixer

2 x Baking trays

Baking Paper to cover trays

1 x Tablespoon

Fork

Wire cooling rack

1x teaspoon

1 x small snap lock bag
Ingredients
250

g

butter

room temperature

150

g

castor sugar

(2/3 cup)

1

teaspoon

vanilla extract

195

g

condensed milk

1/2 can

2 1/2

cups

Self raising flour

sifted

3 x

125 g

packets choc bits

milk, white & dark

1

Tbsn

extra self raising flour

125

g

extra milk or white choc bits

for decoration
Instructions
Collect all ingredients & equipment. Preheat oven to 180˚C.

Line baking tray with baking paper

Cream butter, sugar and vanilla in the mixer until light & fluffy.

Scrape down mixture around the sides of the mixer. Then while beating, pour in condensed milk. Continue mixing until combined.

Add flour and choc bits into the butter & sugar mixture.

Mix on slow speed until combined.

Roll heaped Tbspns of the mixture (40g each for large cookies) into balls and place onto baking trays. Allow room for spreading.

** Make balls 50g each for larger cookies - try a test run of 1 or 2 cookies to determine the size you prefer.

Dip a fork into the extra flour and flatten cookies slightly. Try and keep the round shape when pressing down.

Bake for 18 - 20 mins or until lightly golden in colour.

Try baking 2 trays at once, swapping trays over after 10 mins.

Allow cookies to remain on the trays for 5 mins before cooling on a wire cooling rack

Cookie sizes: Left cookie: 40g rolled only Middle cookie: 40g fork pressed Right cookie: 50g fork pressed
Freezing
Make today, roll and press into freezer proof container between layers of baking paper and freeze for up to 2 months.

When you're ready to bake, peel the cookies off the paper and bake a few minutes longer than if you make them fresh until lightly golden.
Decoration
Microwave choc bits in a snap-lock bag for 15 sec intervals until melted.

OR Melt the extra choc bits in a bowl over a saucepan 1/2 filled with boiling water until melted. Use a teaspoon to drizzle the melted chocolate over the cookies. Don't let the water mix with the chocolate or it will harden & seize.

Push all the melted chocolate to one corner of the snap lock bag.

Snip a few mm's off the corner with scissors

Let the chocolate drizzle over the cookies.
Notes
Check out my courses @ https://garterblue.com.au/course-hub-online-courses/
Recipe / Instruction worksheets are not for resale or distribution (c) Garter Blue